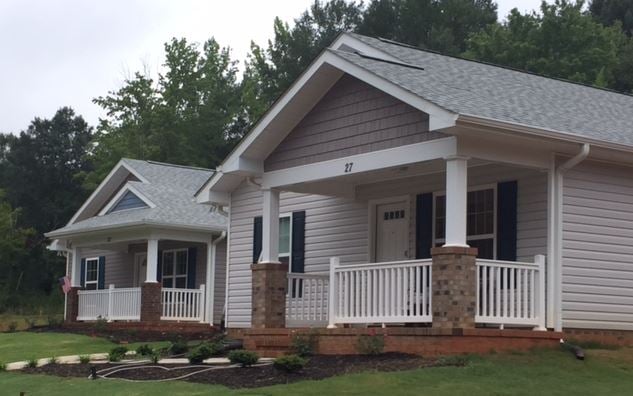 In Greenville, South Carolina, Habitat for Humanity has earmarked an entire neighborhood, Grace Point, to be dedicated to Veterans and their families. The block consists of several houses to be remodeled as well as empty lots for which new houses will be built. The completion date is estimated for 2018 and the total cost of the project will top 1.3 million. $900,000 has already been raised for the plan.
"Despite their sacrifice and service to our country, veterans face a risk of housing instability when they return," said Monroe Free, Executive Director of Habitat Greenville. "Through the development of Grace Point, we are making a commitment to our local veterans that they will be able to find safe and secure affordable housing in Greenville. We are asking the community to make the same commitment to our local heroes through support of this initiative."
On any given night, the U.S. Department of Housing and Urban Development (HUD) estimates that 47,725 homeless American veterans sleep on the street. Here are some quick facts about homeless veterans in America:
DEMOGRAPHICS OF HOMELESS VETERANS
11% of the homeless adult population are veterans
20% of the male homeless population are veterans
68% reside in principal cities
32% reside in suburban/rural areas
51% of individual homeless veterans have disabilities
50% have serious mental illness
70% have substance abuse problems
57% are white males, compared to 38% of non-veterans
50% are age 51 or older, compared to 19% non-veterans
Veteran homeless has been a problem all over the country. Nationwide efforts to assist service members who find themselves in tough times has managed to reduce the rate of homeless by half since 2010 and in 2016 it is down 17% from 2015.
If you or anyone you know is a homeless veteran and needs help please call the Bureau of Veteran's Affairs at 1-877-4AID-VET (1-877-424-3838) There are many programs and assistance available to get veterans into safe housing.
Healing Heroes Network (HHN) is a non-profit 501c3 charity which has provided needed programs and services to our veterans since 2008.
As a non-profit organization, HHN's primary focus is to provide the means for wounded warriors to get the treatment and therapies they deserve and need.
Along with sweepstakes advertised at Hero Giveaway, HHN solely relies on the graciousness of their followers on Facebook through donations, merchandise, and entries to HG's giveaways.
Thanks for your continued support for our troops. For more information, and to donate to the cause, click the link below!