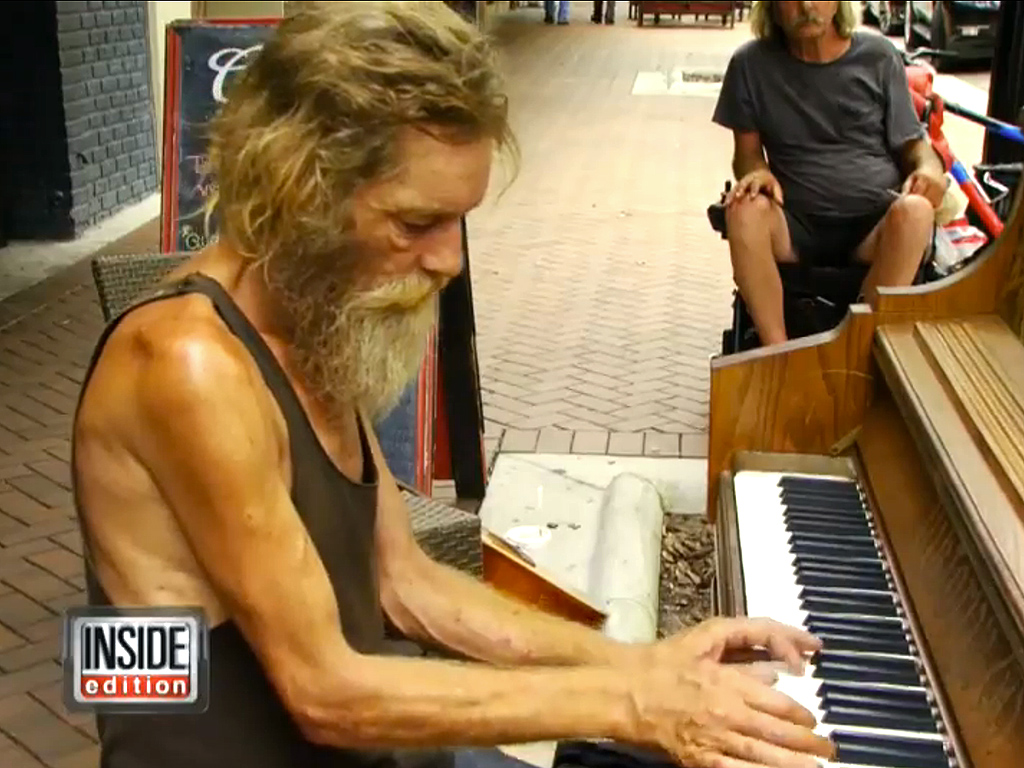 Streets in Sarasota, Fl take part in an interactive public arts project and line the sides of downtown streets with pianos. They invite those who pass by to sit down, relax and play a tune.
Daniel Gould, a U.S. Marine Corps veteran, was homeless and living in Sarasota, Fl. His incredible piano abilities were discovered last year and captured on video as he played a piano set out on the street. The video taken by a stranger walking by was uploaded and had hits over 500,000 within days. The beautiful music streaming from the instrument and disheveled, shaggy Daniel would become an internet sensation. To date, a video of his playing the piano on youtube has over 22 million views.
Local news outlets covered the story with glee, he was given a makeover and new clothes. His story unfolded to a dramatic tale. He struggled with drug and alcohol addiction, he lost his wife in 1998 to a drug overdose, he lost custody of his son aged 3 and hadn't seen him in 15 years. Video of his son, at the age of 18, watching his homeless father play beautiful music and speaking his plea to find his son is heartwrenching. Gould entered rehab after a video reunion with his son.
But, where is he now? Daniel is set to record an album soon. He even asked Jimmy Fallon to perform a duet with him. He has played the National Anthem for a NFL game and has a Facebook page with over 17,000 friends. Donald's incredible talent has introduced him to another chance.
Healing Heroes Network (HHN) is a non-profit 501c3 charity which has provided needed programs and services to our veterans since 2008.
As a non-profit organization, HHN's primary focus is to provide the means for wounded warriors to get the treatment and therapies they deserve and need.
Along with sweepstakes advertised at Hero Giveaway, HHN solely relies on the graciousness of their followers on Facebook through donations, merchandise, and entries to HG's giveaways.
Thanks for your continued support for our troops. For more information, and to donate to the cause, click the link below!